bioStories publishes anthologies comprised of pieces previously appearing in the magazine focused on unifying themes. These anthologies are available for purchase in trade paperback or as ebooks.
Encounters: fifteen eclectic essays focused on the chance encounters experienced within all of our lives, meetings that often bring change to those involved. Here readers will meet mentors, criminals, good Samaritans, predators, and saviors. Writers encounter death and new life, meet animals and greet friends, new and old in this diverse and satisfying book. Buy it now.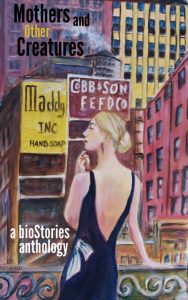 Mothers and Other Creatures: fifteen engaging essays that examine some of the women–mothers, grandmothers, caretakers, even strangers–who shape and transform our lives. Often the presence, and the memories, of these matriarch figures is comforting, frequently instructive, sometimes heroic, occasionally destructive, and always complex. A book honoring the variety of women's experiences. Buy it now.