Weekly Featured Essay
An essay about longing for a time of innocence and the place that embodied it.
by Suzanne Ketchum Adams
Viewed from the water, my grandparents' summer cottage at The Cove stood tall and spindly, like Grandfather himself, poised right on the brink where the lawn dropped off six feet to the rocky beach below.
Like us, my grandparents lived year-round just five miles away, but they were old by the time I came along and seldom came to The Cove anymore. My siblings and I spent every fair summer weekday of our childhoods at The Cove, often with friends in tow, my mother driving us there in the station wagon from the farm where we lived. After we'd left the main road, we bumped along on the dirt one that led down to the shore, past rocky outcroppings and small cottages nestled in the woods, until we came to a hand-painted sign my older cousin Mark had posted years earlier which read: "Dangerous Curve. Speed Limit 100. 95 Night."
---
MORE ESSAYS
Death in the Family
by Ruth Spack
A feast for the eyes. That's what I wanted my two young grandchildren to discover at the Museum of Fine Arts in Boston. But the specter of death loomed over our visit. More than a feast, we needed a balm for the soul. Zachary, almost eight, asked to see the mummies first, and so we headed toward the steep staircase leading to the ancient world. Refusing to hold my hand, his three-and-a-half-year-old sister, Annabelle, started the climb by herself. Zachary walked up a few steps in front of me, then stopped. I stopped too. I could see from his expression he had something serious on his mind.

Zachary pushed his long dark bangs away from his eyes, as if to clear a path for his thoughts. "It's too bad Lauren died," he said. "She was only twenty-eight."

Lauren, our beloved cousin, had overdosed on painkillers three weeks before. It was hard to talk about. "She had a rough life," I said.

"Now she has no life at all," said Zachary.
---
The Ballet Barre
by Aminah Wells
There is a ballet barre in my living room. There isn't much room for it, but I make it work. You see, just before COVID-19 arrived, I took my first ballet class. I felt awkward and gangly trying to waltz and pirouette across the floor, but there was a sense of belonging at the barre. The barre was smooth to the touch and securely fixed to the wall, a reminder to keep my core stable while attempting the unfamiliar movements and positioning of my feet, legs and arms. When the world shut down and my classes were canceled, barre work seemed easy to replicate at home and a good form of exercise. My kitchen counter, however, wasn't cutting it—I felt like I should be cooking, not pliéing—so, I bought a barre.
---
Granny's Secret
by Andrew Yim
I am three years old in the photo, taken at the end of the Easter weekend, just before Grammy heads back home from New York suburbia to the outskirts of Boston. It is a slap dash portrait—brothers with hair tossed by wind and play, Mom and Dad weary with the holiday effort, framed by the backyard forsythia and violet in first bloom. I stand at Grammy's side with tears running down my cheeks, distraught and aggrieved that she is leaving. My maternal grandmother was the only grandparent I knew, and I adored her.
I knew my Korean grandparents as black and white photos on the living room wall. Their photos held court like austere religious icons, both blessing and reminder of another place and seemingly another time. Grandma Yim was only a distant voice on late night phone calls from Korea. Though she often made the case for relocation to the United States, Dad argued that, without her church community and friends, she'd be lonely and unhappy. So she stayed in Pusan, South Korea, and we never met. Grandfather Yim died just a few years after my birth. Mom's father, Grandfather Donovan, died just before she graduated from college.
Which left only Grammy, and she was fun. With a half-smoked Parliament in hand, a Buick with soft leather seats, and a seemingly insatiable love of card games (Uno, cribbage, hearts, and Russian bank), she was, for a grandchild, easy company. She was a connoisseur of simple pleasures: a buttered roll for the grilled hot dog; large, soft pillows on crisp cotton linen; and long summer evenings on her enclosed porch with endless games. She seduced my three brothers and I with these pleasures, reveling in her role as the indulgent grandparent.
---
Buck
by Al Czarnowsky
The banging noise woke me from a sound sleep on a mid-July Sunday morning. I was twenty-seven years old and lived in a small house on the dead-end section of Spruce Street in Steamboat Springs, Colorado, a town better known in 1978 for its surrounding ranching and mining activity than for the skiing that would convert the town into the upscale resort it is today. I worked as an assistant engineer at a nearby surface coal mine. The day before, I had spent a long twelve hours to conclude the expansion plans that my boss, the chief engineer, intended to present to the company's management in Denver on Monday.
A string of cuss word words accompanied the banging outside. I slipped out of the covers, walked to the bedroom window, pulled back the curtains, and spotted my obnoxious neighbor beating on a galvanized metal trash can. "What's he doing now?" I muttered. I glanced at my alarm clock. It was fifteen minutes after six o'clock.
When I turned back out the window, the fellow booted the can, tipping it, which allowed his golden retriever to escape and sprint down the street. More obscenities followed from my neighbor.
---
Give That Dog a Bone
by Kristen Ott Hogan
We stood on a bridge in Costa Rica taking in a scene straight out of Jurassic Park. It had taken more than a minute to see them in the trees, their skin camouflaged in the foliage. But like an optical illusion, the dozens of creatures perched in the branches suddenly blazed into view. With mini-stegosaurus scales, their fish-like eyes blinked lazily in the sun.
My husband tilted the camera for another shot. "Wade," I whined, "don't use all the film on these guys."
It was March of 2001, the abeyance before 9/11 changed the world. Wade and I had been married less than two years, no kids, no pets. Our tiny apartment cost $425 a month, and I wouldn't have been surprised to see mushrooms sprouting from the carpet. We'd saved, penny-in-a-jar-style, to make this trip.
---
Naked Facebook Friday
by Nancy Deyo
Dr. Edsall peeks her head into the open doorway of the waiting room. "Nancy, Chris, great to see you both."
I have been under a psychiatrist's care before, but this time, the experience is not overshadowed by a physical health crisis. Fifteen years prior, a serious spine injury left me bedridden for a decade, recovering from failed surgeries, dependent on opioids, and taking an antipsychotic before finally weaning myself to a full recovery. For reasons I do not yet understand, my husband believes I am now in a crisis of a different sort.
---
Speech and Debate in the Time of Covid
by Neil Cawley
"Two down?" the teenager in the suit and tie asks. He stares at me through my laptop. A long silence.
"Um, sure. That's fine," I respond. He's on to me, I know it.
"Two down," he calmly explains, "means that when I've spoken for five minutes you hold up two fingers to indicate that I only have two minutes left, then one finger when I have one minute. Then display a fist if I reach the time limit, which I won't."
I'm being lectured by a high school student. At an online speech and debate tournament.
It's not that I don't know what "two down" means. I was involved in speech as a competitor and volunteer judge for over twenty years. "Two down" is our lingua franca, like "pick off" in baseball, or "onside kick" in football. I understand the term. It's just that I'm unsure of myself because it's been many years since I've done this so I'm struggling to remember how it all works. Plus, the kid's standing in his family bathroom. The strangeness of evaluating these students in their homes from my computer is a little disconcerting.
---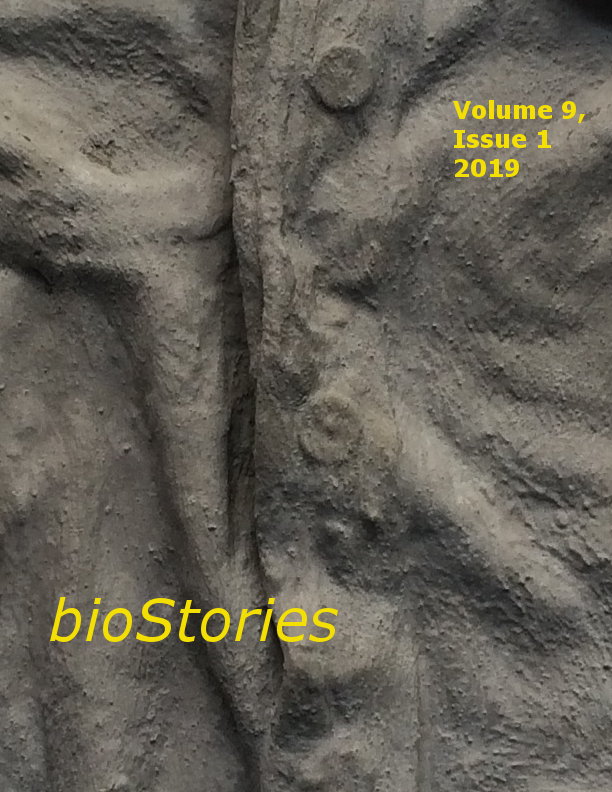 Want even more? Here are links to our two most recent issues:
Work from twenty-two fine writers. You will be transported into war zones, alongside horse tracks, within homeless shelters and food kitchens, laundromats and trailer parks. These true stories will inspire, enrage, provide hope, and change your perspective.
---
A full-bodied, eclectic issue featuring twenty-five essays.
---
Don't Forget to Check
out Our Anthologies
Encounters features fifteen eclectic essays originally appearing in bioStories magazine, all focused on some of those chance encounters that can transform our lives.
---