Weekly Featured Essay
We feature new essays every Wednesday; make it a weekly habit to stop by and be enchanted by our eclectic content.
We frequently despair about the quality of American health care and its impersonal nature. One doctor/patient relationship challenges that notion.
by Angela Townsend
You don't get to feel your life change in real time. Looking back, you see the big moments. They wear brilliant disguises, brown grocery bags labeled "Errand" or "Inconvenience."
But when you are twenty-six and trudging to your annual physical, you do not glimpse a before-and-after that will change everything.
Living with Type 1 diabetes since age nine, I have seen enough doctors to staff a cruise ship. Grad school gifted me with one of the best, a ball of radiance with a red beehive. Upon my graduation Dr. Zitzman consulted the university to determine if there was any way she could keep me as a patient, but Princeton had no respect for our bond. So it was off to find my first real, adult doctor. If I can prevail upon him, he will also be the last.
You don't hear a name and know that you've just met one of your main characters. I only knew I had an appointment with Dr. David Fableman, founder of a three-location practice in our nook of New Jersey. Shiny-headed and shorter than me, Dr. Fableman was a frisbee of energy. In that first two-hour extravaganza, he glittered with fascination, a student not of diabetes but of my diabetes, empathetic about the co-occurring anorexia and emphatic that I was doing just fine. When I admitted my exasperation with endocrinologists, he corralled a smile. "Egos. Not always helpful. You and I can manage your diabetes together if you'd like."
---
MORE ESSAYS
Biology: A Memoir
by Gary Fincke
1
Mr. Freitag, your biology teacher, was fond of seeding his lectures with quotes. "'Some insects are generated spontaneously out of dew falling on leaves,'" he read to your class one February afternoon. "'Others grow in decaying mud or dung, some in the flesh of animals.'" He paused, his gaze moving from desk to desk as if he was trying to make out who wanted to laugh and who wanted to say "Amen." Finally, with a flourish, he closed the book and said, "That, class, is an observation by the famous Aristotle. He wrote The History of Animals and fancied himself a creation expert. We're about to make a fool of him."
2
Fifteen, you thought you knew all about superstitions, how the plots of ancient myths were full of holes that needed to be covered by faith. You had a grandmother who was fond of telling you about the ways people misused the ones you'd learned from Genesis. "Near Galesville, Illinois," she said, "some thought it was possible to discover where the Garden of Eden rose and fell. Those people thought you could walk right up to where the borders were and imagine Adam and Eve getting kicked out." Like she always did, she waved one hand up toward the sky as if what she was saying was being overheard. "That's because they believed what the Reverend VanSlyke preached," she said. "Can you imagine? He thought God started right there in Illinois with the Garden. And him still preaching about it when I was born."
---
Final Conversations
by Mirinda Kossoff
In the short space of a month, my two oldest and dearest friends died: one of cancer three days before Christmas and the other suddenly in the first month of the new year. The first death, even though it was anticipated, sent me into deep grief and the second, so shocking, devastated me.
Tessa never married and had no children but had a successful career in the top echelons of journalism. Alice had two sons and four grandchildren and a change-making career in higher education. Alice and Tessa didn't know each other. Had they met, they would have liked each other. Both had fierce intellects. Though we didn't live close geographically, I traveled with each of them, visited back and forth, and phoned regularly. I could go to either of them for support and advice and they could receive the same from me. Each in her own way was the sister I would have chosen had I the choice.
---
Wanderings
by Sydney Lea
My wife and I enjoy a slew of retirees' freedoms, one of them being that we can make spur-of-the-moment decisions. Within reason, that is. We have three dogs, and while I dote on them for the most part, I do sometimes resent them. Our spontaneity can't include, say, a departure for Montreal, to our minds the most beckoning nearby city. A few unplanned days in May there might have been lovely.
We have an excellent local vet, and a timely phone call could have gotten our pets boarded at her practice; that would not have been the same as immediate indulgence of an impulse, but it'd be the next best thing. Unfortunately, we ignited our most recent spark of wanderlust one of her closed weekend days, so even that was out.
Along with so much else in Montreal, we're especially fond of the Musée des Beaux Arts. Its permanent collection doesn't dazzle, but it often has intriguing guest exhibits: I think, for instance, of an exquisite Vuillard show a few years back and of another featuring the stage settings of Chagall, of which we'd been unaware. He also painted the ceiling of the Paris Opéra; but I knew that.
Onward, and on a less hifalutin level. We always look forward to lunch at the museum's restaurant. The chef prepares his paté, to name a favorite, even more skillfully than I remember in France, back when I used to go there a lot. I even worked in a Paris suburb one summer, where I sometimes yearned, counterintuitively, for a greasy burger from the United Diner in my college town. The United operated all day and night, and there were some, well, memorable wee-hour outings there, with friends or alone. But never mind all that, another irrelevant detour.
---
The Bargain
by Sherrie Dulworth
Whenever my dad left our house for any reason other than for work, we never knew what he would bring home: a wood lathe, antique clocks, a live goat, colorful fishing tackle, a gigantic victrola horn—those are among the cornucopia that I recall from my childhood. On occasion, he would return with something truly spectacular like a running Model T Ford.
Bargaining was one of his favorite past-times. He seemed to enjoy the banter, and the give and take of the barter, as much as he did his eclectic acquisitions. Yet our family didn't hear about my father's final, and perhaps finest, bargain until just days before he died.
---
Shells
by Rasmenia Massoud
On the other side of my bedroom door, a daytime talk show's studio audience—Oprah or Donahue or whatever—chattered and whooped. I swung the door open and immediately my nostrils burned from the cosmetic cloud of baby powder, hairspray, and perfume.
Perfume. Musk had been her favorite. A lovely thing until I ruined it.
I took eggshell steps across the hallway to the bathroom, too eager to share my newly acquired seashell collection to resist interrupting her while she got ready for work. Smooth, shimmering bottles in clear and tinted glass collected dust on the bathroom counter. Fuzzy hot pink covers decorated the toilet tank and lid, while matching miniature shag rugs surrounded the toilet and sink. Various creams and liquids in shades of rose and amber gleamed and glinted next to her as she sat at her makeshift vanity: the closed toilet lid. Her makeup tray was carefully arranged on the toilet tank, and a light-up magnifying mirror rested on the edge of the sink. Not quite the glamorous setup she'd imagined back when she'd attended modelling school, but she hadn't imagined my existence then, either. The future sneaks up on everyone, I guess.
---
The State Champs from the Beginning of the World
by J.D. Kleinke
The girls from way out on the Makah reservation who won the 2023 Washington state 1B high school basketball championship may be, on average, half a foot shorter and two years younger than every team they beat on the way.
But first year Head Coach Cherish Moss—the twenty-nine-year-old with the thousand-yard stare who came back to Neah Bay to coach the team that she, her mother, and older sisters played on, the one her sisters and cousins play on now—has a matter-of-fact explanation that might sound like the usual gauzy coachspeak. "We believe in dreams," she explains, with the unblinking, unflinching seriousness of the best coaches anywhere.
By "we" she does not mean just her two sisters or three cousins or the other six Lady Reds, as the sister team to the Neah Bay Red Devils are called. She is talking about their tribe, the Makah, the original inhabitants and once dominant maritime civilization at the extreme northwestern corner of Washington state. She is also talking about the 1,519 descendants and relatives of the tribe who still reside in or near Neah Bay, the fishing hamlet in the middle of the reservation that looks as if it had drifted down from Alaska and attached itself to the northwesternmost fingertip of the US mainland.
"Dreams carry messages, communicate, give us direction," she says, echoing what many native religions around the US and Canada have always believed.
---
A Relative Deathbed
by Yoon Chung
I was still half asleep when mom broke the news while leaning over the bed—we have to go, now. Grandma died. Wake up dear, grandma died. Hearing her tears, I rushed into my clothes in the cold.
The shock faded in half an hour. Maybe even less. By the time we arrived at the train station, I was hungry and ready for breakfast. Dad and I shuffled into a cafe for the embarrassing affair of eating in front of a grieving woman. I apologetically ordered a sandwich. The ham and lettuce were good. I told dad over coffee that it still felt unreal, perhaps to excuse my own indifference. I want to lie to make myself look like a better granddaughter, but the truth is that the whole affair was completely believable, as foreseeable as the last page of a queen's biography. An acceptable matter of course.
---
Want even more? Below are links to recent past issues (all past issues are available here):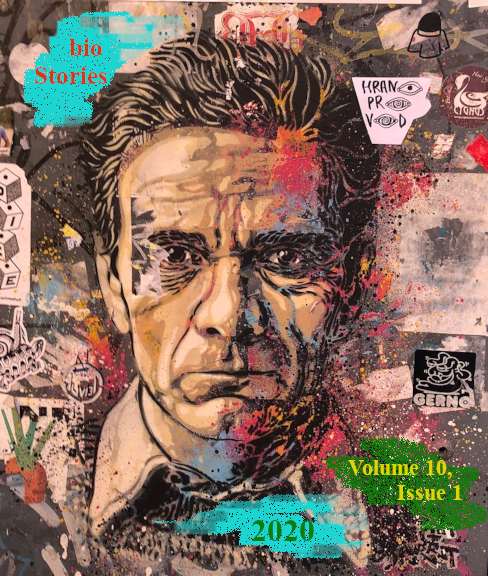 ---
Don't Forget to Explore
Our Anthologies
Encounters features fifteen eclectic essays originally appearing in bioStories magazine, all focused on some of those chance encounters that can transform our lives.
---