Weekly Featured Essay
This week we are reminded that little in life is simple, facts can be hard to come by, and casting judgement hampers simplicity and erodes factuality.
by Anthony J. Mohr
The tenants and the landlord shared common features. Bodies that stood straight once but, in the sixth decade of their lives, had begun to arc. Deep lines crisscrossed their faces. They—we call them "the parties"—represented themselves. And we needed interpreters. Spanish for the tenants, Mandarin for the landlord.
The tenants: I bet the husband rose at sunrise in order to arrive at the foundry on schedule. His wife took a bus in the opposite direction and rode for an hour to the six-bedroom house she had to clean. I stopped myself. I had to focus on what I knew.
The landlord: He was a big man, rotund with a bulbous nose and an unsteady voice. I shouldn't have let him say he'd immigrated to this country a generation before his tenants, which gave him years to save for the duplex where they lived—the tenants on the ground floor unit, the landlord upstairs. Recently his wife died. My guess is he spent weekends tending the plants, changing the outside light bulbs, scrubbing the walkway… I stopped myself. I had to focus on the testimony, which was what I knew.
Me: For over two decades, a judge. Not much hair left, creases across my forehead, and a resting expression some would call a scowl—unless I'm smiling, which a few claim I do too often. Wearing my black robe doesn't bore me yet.
---
MORE ESSAYS
I Dream of Dave Barden
by Brian Huba
I asked my uncle Dave if we could speak in private. He told me to come over but only if I brought him a Labatt's twelver and deck of Marb Reds. "The cover charge," he called it. After using my fake ID to buy the requisite items from the Haji Mart, I pulled into Dave's driveway, demarked by a mailbox that read The Barden's in grammatically incorrect stick-ons. The house was a ranch style in West Rexville, about five minutes from my parents' house, where I still lived. A lopsided shed anchored the driveway. The above-ground pool was half-covered in tarp. I parked my Probe GT between Aunt Nora's Taurus and Dave's Escort wagon with the dealer plate. Even though Dave was management at Orange Ford, he never chose a high-end demo. Other managers drove Eddie Bauers, Crown Vics, F-Series with the bells and whistles. Bells and whistles didn't matter much to Dave.
In the kitchen, Nora sat on a backless stool, smoking a joint while talking on the phone. Scattered about the countertops were tins of Chinese food. Into the cordless, she said, "Deb, hold on a sec, my handsome nephew just walked in."
To me, "Hi, hon, he's downstairs."
The stairs began behind a wall that held matching glamor shots of Nora and her twelve-year-old daughter, Courtney, both wearing feather boas and too much makeup. Five steps down was a landing where Nora kept litter boxes for her four cats. A second stairwell went to the semi-finished basement, and there was Dave, beer in one hand, half-smoked Marb in the other, standing near a sliding door that led outside, one pane of which was cracked. Classic rock blared from a woodgrain speaker.
---
Luxury or Necessity
by Lynne Golodner
Every Christmas Day, I clean out the basement—pulling out plastic totes and rifling through them to see what we can toss. Most of the totes contain items that trigger memories I rarely access. Some of those bins hold old photo albums from my tumultuous first marriage, even though I divorced my children's father and have been remarried for more than a dozen years. When I consider what to keep and what to toss, I keep these images of the past not just for my children, who might one day want to envision their parents together, but because I want to remember that there were good moments among the bad.
I dust off books and games, mop behind the couch, categorize and organize the stuff we've accumulated and stashed away. I look forward to this cleanse with great enthusiasm, but my husband and four nearly grown children do not. They surrender to my demands wishing I would forget this ritual. But when I clear things out, I can breathe again, like a weight has lifted off my hunched shoulders. I have space to think.
---
134 Days
by Phil Cummins
March 6, 2020
Our eldest son, having been supported by us for years and now recently graduated, has finally commenced gainful employment as an architect with a Dublin-based firm. We decided to broach the thorny issue of 'rent' with him.
"But that's a quarter of my salary!" said P , clearly shocked at our proposal of €100/week to continue living under our roof.
Parents and son have since taken a step back to allow time for reflection on these new pecuniary arrangements, although I suspect he's hoping that such talk of rent will dissipate. We'll give it a few days before completing that sentence for him: "That's a quarter of my salary… for room-with-ensuite, electricity, gas, cleaning, laundry, groceries, Wi-Fi, parental taxi services, Nespresso capsules, and Chinese takeout. Cash or IBAN, son. It's your choice."
---
Living through Lockdown with Anna
by Melanie McCabe
Two women I have not seen since we were girls scaled the dusty metal side of a dumpster and waded into what had been tossed there. They braved the grime and mold and dangerous edges to salvage what they were seeking, what had been promised to them and then withheld. Sifting through the linens deemed too shabby to donate, the dishes and glassware with their jagged memories of usefulness, they excavated the photographs that years before had been entrusted to Margaret.
Margaret was my aunt, my father's only sister, and when she died in 1986, she left dozens of family photos in her home with her now-widowed husband Harold who—I am told—hated all of us. Referred to us, sneeringly, as "you McCabes" as though this were a damning epithet and forced her to sneak and lie whenever she made visits to her family.
The two women were my cousins. Their oldest sister told me the tale of that eleventh-hour reclamation that had occurred decades before—and then sent me a disc that contained all of the images. She had begged Harold for years to send the photos, but—spiteful or lazy—he had not complied. A Christmas card she sent to him in 1990 was returned, stamped "Deceased"—the only word received that he had died. The estate lawyer also refused to turn over the photos and so my cousins had swooped in before the priceless archive of "those McCabes" could be sent to the dump or burned.
---
Parenthood: A Journey Between Bicycles
by Ben Adelman
Our son's first bicycle was a little red BMX-style bike with knobby tires and coaster brakes. I found it on Craigslist and went after work to check it out. The lady selling it said her child had outgrown it, and she was glad to know that the bike would live on to make another little boy happy. She didn't charge me much—maybe twenty bucks.
The bike was tiny, but the feeling was momentous. Buying our son, Abe, his first bicycle was a milestone. I was a fairly new dad at the time, but I sensed the step I had just taken was one of many that would lead to new experiences and more independence for our boy. I envisioned the journey he might take, learning to pedal and brake, learning to steer, and—someday—learning to balance without training wheels. After that, there would be no stopping him.
---
Ink and Memory
by David Raney
"What is the point of collecting autographs?" asks a 2008 article in Britain's Guardian. The author's answer is clear from the follow-up: "What are you going to do with the damn thing when you've got it? Frame it? Sell it? Eat it?" In five paragraphs he disparages collectors, sellers who milk "celebrity cash cows," famous people who sign, famous people who don't.
This is mildly amusing, if a tad overwrought. I'm no celebrity sycophant—I don't know many of the luminaries staring at me in checkout lines—but I have lots of autographs, and I like having them. Is wanting the signature of someone you admire really the same as "the need to smoke Kurt Cobain's remains," as the author suggests?
That seems…strong. And I think it's motivated by a more complicated attitude toward celebrity than the author lets on. Why else translate Ringo Starr's announcement that after a half century he's through signing as an instruction to fans to "Curl up and die"? Why scorn someone who "once asked me for mine simply because I'd been standing near a musician they adored"? Maybe the really painful part is not being asked.
---
Sixty Days in Shanghai's Covid Lockdown
by Iris Chen
"Tired," grandmother says when I ask. Just the one word. She has not slept in four days because of pain in her arm. Four days of sitting melt her like a Dali clock against the plush of the sofa and her feet have begun to swell. Two years ago, she came up to my shoulder. Soft eyelids fold over her open eyes. "Pain," she says when she calls me. My mother tells me that she blinks in slow motion.
It is April 2022 in Shanghai, China. Unborn babies drown in the womb while mothers bleed to death around them. Dogs die in apartments. Grandmothers hang themselves. In lieu of seeing my family go through something similar, my mother riffles through her contacts for a doctor. She gives my grandma two nerve pills per day. During the brief interlude when my grandma sleeps, my mother looks out a window. But the old body on the couch, it is still there. It breathes. With each breath her body crests upwards to nudge the waking world.
---
The Send
by Dan Keeble
I am standing in Hopes' East London grocers, ten years tall. Two cawing crow trees, in 1950s black utility coats down to their ankles, tower over me like gothic cathedrals. They conceal paisley patterned wrap-over pinafores. Their trunks reach up to ash-grey canopies topped with war-poster head scarves. The dull-to-depression fluorescent shop light doesn't reach down to a sapling with a jute shopping bag and a send note from Ma.
Through nasal gossiping they are slandering the neighbourhood. Doreen Prosser was at it again in the alleyway last night. I heard it wasn't kissing. What It was was concealed in a snorted mumble and a nodding glance to Mrs. Hope. She silently nudged them on while turning the handle of the Avery slicer. Today it is ham. Floppy pieces fall from the spinning blade without stopping. She collects every fourth slice in her other palm, folds it twice and stuffs it into her mouth. Her eyes are barely visible, buried behind shiny flushed cheeks. I am mesmerised by her dexterity and how her greasy lips resemble the animal she slices. Munching noisily on a mouthful of the pink gunge doesn't stop her talking. I think about Ma. We don't have much, but we've got manners. Mrs. Hope's attentive ear urges on the character assassinations. Mrs. Dawson has new net curtains. I've no idea why that's, Hmm, or why they all sniffed on the intake hearing, Jenny Bartlett has a new lodger.
---
Our 2022 Pushcart Nominees
We are pleased to announce our 2022 nominees for the Pushcart Prize: clockwise from top left: Nancy Deyo for "Naked Facebook Friday"; Jean Ryan for "Letter to a Phantom"; Liza Wieland for "The Museum of Odd Inheritance by Daughters from Mothers"; Sydney Lea "What Time Was It?" The quality of the writers we are so lucky to feature makes such decisions difficult. Congratulations to all. We are humbled to feature such great writers.
---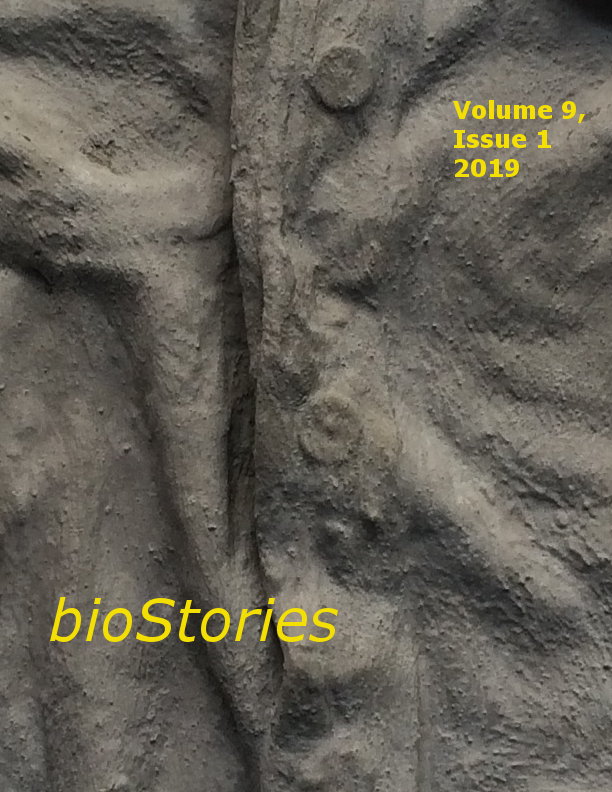 Want even more? Here are links to our two most recent issues:
Work from twenty-two fine writers. You will be transported into war zones, alongside horse tracks, within homeless shelters and food kitchens, laundromats and trailer parks. These true stories will inspire, enrage, provide hope, and change your perspective.
---
A full-bodied, eclectic issue featuring twenty-five essays.
---
Don't Forget to Check
out Our Anthologies
Encounters features fifteen eclectic essays originally appearing in bioStories magazine, all focused on some of those chance encounters that can transform our lives.
---