Weekly Featured Essay
Welcome to a new year and a rich assortment of new essays and new voices.
We open 2021 by featuring Terri Sutton. Terri tells a story that appears deceptively simple but which reveals the quiet systemic racism that is all too familiar to those who suffer it daily.
by Terri Sutton
I had forgotten what it was like. To be Black and applying for something … a job, a loan, an apartment. It had been almost ten years since I bought my condo and three times that since I'd interviewed for a job.
---
MORE ESSAYS
The Opening Tip
by Richard Ault
The moment is frozen in the amber of my mind: I am caught, still hanging, held aloft by the updraft of the crowd's roar, dropping the ball in the basket. In that waking dream, I never come down. To this day, even in my eighties, this is a highlight not just of my high school basketball career but of my life.
In reality, though, from that height, my senior season came down with a crash, and all too often even now when I wake up at two or three in the morning, I still try to figure out why.
---
Stone City
by Kymberli Hagelberg
A pack of young cousins crowded into the back of the yellow brick chapel. We were hovering behind the last pew near the stained-glass doors, all of us itching to move on to something more interesting. Indoor services take longer, but I was grateful not to have to stand outside. A cold drizzle that bounced off acres of tombstones beyond the chapel doors would have spotted the suede coat I loved to show off and flattened my carefully blow-dried hair.
That's what I recall about the service for Uncle Bob, my mother's eldest brother: my teenage vanity, the green pears on the buffet table at the wake afterwards, and the bottle of gin a cousin commandeered for us when one of the aunties looked away.
---
The Wall
by Eszter Szentirmai
"It was our chance to get out. We had everything lined up, the car that was supposed to pick us up, the driver … Our bags were packed with the essentials. We knew exactly what we had to do, how to hide, how we were going to make it across the border into Austria. It was risky, but it was possibly the least risky time to go. So many people were leaving then. And the Communists were much more preoccupied with squashing the revolution and didn't have the manpower or the time to pay attention to the mass exodus. We had only a tiny sliver of time before they would organize and bring in more people, so we knew that if we were to leave, it had to be fast. This was in 1956, ten years before your father was even born …"
---
The Jagged Edge of Her Heart
by Barbara G. Caceres
All I ever knew of my grandmother was her name, a southern, old-fashioned name that was once used in a rap song. Ola Mae had four children by the time she was twenty, two boys and two girls. The youngest was my mom, Maggie. In 1931 when Ola Mae was just fifteen, she married Sherman Taylor, a good-looking, hard-working young man with soldier straight posture. At five feet four Ola Mae stood two inches taller than her husband. Their children inherited her thick, coal black hair, high cheekbones, and piercing blue eyes.
They lived in McNairy County, a rural farming community in West Tennessee but moved to Peoria, Illinois when the children were no longer babies. Sherman went to work in the construction trades as a welder and Ola Mae went to work planning her eventual escape. I don't know if the plan to leave was born of a sudden catalytic event or if it slowly worked its way into her thoughts a little each day. When Ola Mae left, she took nothing with her, leaving behind little parts of herself in each room of the house. Her embroidered cheesecloth and ruffled apron still hung near the kitchen sink, a canister of lilac scented powder remained on a narrow shelf above the toilet, and a dozen photos of Ola Mae with Sherman and the kids at different ages sat collecting dust on the old oak side table in the living room. Ola Mae shed the skin of her old life, her old self, emerging as a whole new person, someone unburdened by family responsibilities, free to come and go when and wherever she wanted.
---
My First Real Job
by Pam Munter
At twenty-one, few of us fully understand who we are yet, and that inevitable identity struggle was in full flower in 1964 in Boston. Surviving college was easy compared to juggling the existential weight of making the next big decision. It seemed so important, as if that first post-college job would set the course for the rest of my life. I was wrong about that. My first real job lasted all of four months.
I had graduated from the University of California at Berkeley with a degree in journalism a few months earlier and applied for a job as a "copykid" with the Christian Science Monitor in Boston. My tenuous religious attachment arose from my adolescent worship of film star Doris Day, who was everything I wanted to be. She was also a Christian Scientist, so I—lacking an informed belief system—started attending our local church in Pacific Palisades, California when I was fifteen. I liked its intellectualism, the lack of ritual and pretension, and the handy book (Science and Health with Key to the Scriptures) to which I could refer for life's answers. The bond was reinforced by a warm reception from the church community. College jarred that loose a bit but after graduation, with no other plans, I leaped at the opportunity to work for what was then one of the top newspapers in the country. Late that summer, I received the letter offering me the job at $54 a week. I'd start a month later.
---
The Wrong Side of the Tracks
by Claire Alexander-Joly
As far as I knew, the world of my childhood was defined and divided by class, and as far as I was concerned, I did not live on the right side of the tracks. From 1963, when I was born, to 1986 when I left for the United States at the age of twenty-three, I lived in a big rectangular block of concrete in the northeastern suburbs of Paris, right outside the Périphérique, the freeway that contours the city and separates it from the banlieues. The building where I and my family lived sat on a hilltop, and from there overlooked not the beautiful sights for which Paris is known but its far less attractive working-class neighborhoods.
Paris and its environs are divided by the Seine. The river runs through the city from the southeast to the southwest curving upward toward the middle. L'Île de la Cité—the site of the Notre Dame Cathedral—is the official center of the capital. South of the Seine lies the so-called "Left Bank" or "Rive Gauche," historically the place of artists and intellectuals; to the north lies the "Right Bank" or "Rive Droite." The terms are a bit misleading, suggesting an east/west division rather than a north/south one.
---
Kisses Don't Lie
by Tony Hozeny
It was one of those muggy August days when you're so bored you wish school would start again. Of course, you'd never say that. My friend Carl and I lay on the grass near the Chicago and Northwestern railroad tracks, chewing on wild chives and throwing stones into Wingra Creek. Carl was a year older, tougher and stronger than I was. We wore old tee shirts and beat-up jeans.
"You want to check out Franklin Field? Maybe some guys are playing baseball."
"Nah," Carl said. "Too hot. I'm so Goddamn bored. You got any money? I'm thirsty."
I shook my head and fired a stone into the creek. "Look, man, I hit a lily pad."
---
Like what you've been reading? All the fine essays published throughout the history of the magazine can be accessed via the contributors/archives page.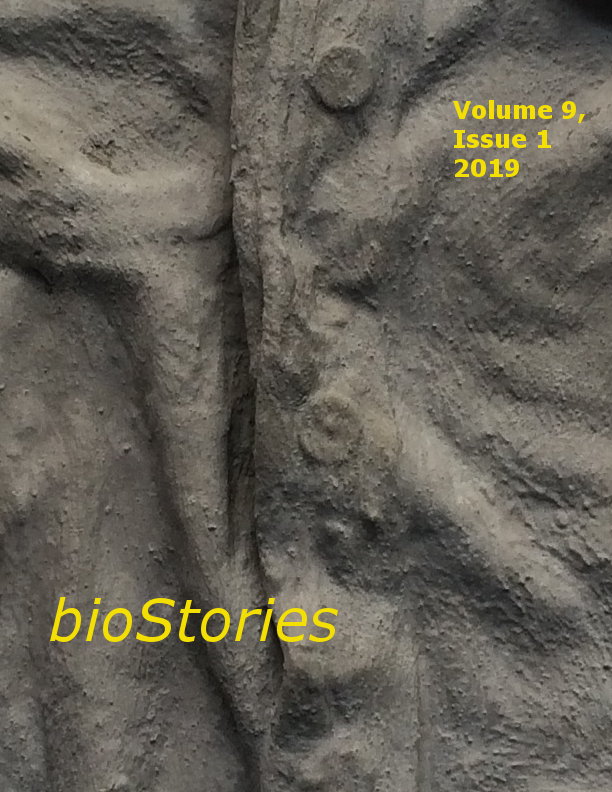 Want even more? Here are links to our two most recent issues:
Work from twenty-two fine writers. You will be transported into war zones, alongside horse tracks, within homeless shelters and food kitchens, laundromats and trailer parks. These true stories will inspire, enrage, provide hope, and change your perspective.
---
A full-bodied, eclectic issue featuring twenty-five essays.
---
Don't Forget to Check
out Our Anthologies
Encounters features fifteen eclectic essays originally appearing in bioStories magazine, all focused on some of those chance encounters that can transform our lives.
---