This week Susan Nash shares the strength she possesses and how she discovered finding peace and a way forward even in the worst of times.
Weekly Featured Essay
by Susan Nash
In our family we don't get cancer. We get drunk. We take drugs. We smoke. We have a wide variety of personality disorders. We fall down and break bones and have very high cholesterol, but we don't get cancer.
That's what I used to think anyway. But I was wrong. I now know that my dad has had prostate cancer, although he claimed at the time that he was just having his appendix out. I've had multiple basal cell carcinomas removed, even if those don't really count. And then my sister got a rare and aggressive lymphoma that irrevocably and unalterably confirmed that Cancer is part of our family.
---
MORE ESSAYS
The Texture of Scars
by Karen J. Weyant
At seven, I already had scars.
The comma-shaped scrape near my left eye was from Chicken Pox. It was a small notch, but deep enough that I could feel the tiny fold of skin with my fingers. A fine white slash on my cheek was from a cut on a barbed wire fence. This smooth scar was nearly invisible, but sometimes, when my fair skin burned and freckled from the sun, the line appeared brighter, a thin white string etched across my cheek.
---
Cleveland City Blues
by Joe Kowalski
In the autumn of 2016, my car was double-booted because I had forged a single-day parking pass, and so I had to take the RTA Blue Line transit to Tower City in order to walk from there to Cleveland State University. Along the way, I stopped at the corner store formerly known as For Goodness Jake's. There was an older man inside, beard peppered and scattershot against his pale skin. His clothes looked like they had been found outside of Goodwill. The dude bought a candy bar and struck up an energetic conversation with another man sitting outside on a bike.
The shabby man was speaking intensely, so I stopped to make sure that he wasn't harassing the poor cyclist. He was clearly drunk, but the cyclist didn't seem threatened by him. The conversation turned to politics. Eventually the man turned to me, his pupils swirling a bit before focusing.
"Your name?"
---
The Truth or Something Like It
by Tommy Vollman
I met Joe Nuxhall a few weeks after my fifteenth birthday. His hands were gnarled, and he spoke as though his mouth was half full of marbles, but he was sharp and funny as hell. I was only a few months younger than he was when he made his Major League debut.
At just fifteen, Joe Nuxhall climbed on the hill at Crosley Field in the top of the ninth against the would-be World Champion St. Louis Cardinals. Manager Bill McKechnie called on Nuxhall with his Cincinnati Reds on the short end of a 13-0 deficit. Nuxhall's debut was essentially mop-up duty at Niagara Falls.
Still, the Ol' Lefthander managed to retire two of the first three batters he faced before all hell broke loose. Nuxhall never finished that half-inning; he never found a third out. In fact following his debut, it would take him eight years to get back to the Major Leagues.
---
My Name Could Be Toby Gardner
by Ann S. Epstein
I lost my name. Perhaps the name was never mine to begin with. In which case, will I ever own one? Or, if the name was once in my possession, can I get it back?
People on intimate terms with their names stir envy in me. When I hear mine, no inner voice says "Me". The roots of this dissociation sprout in a family soil that teems with multiple, secret, and lost names. Such history is common among immigrants who changed their names to assimilate. For me, not being my name also stems from my family's particular pathology.
---
Why We Didn't Tell
by Barbara Desman
When women began speaking out about sexual abuse by powerful men, particularly with the high-profile allegations against men like Bret Kavanaugh, Larry Nassar, and Harvey Weinstein, it led to many a discussion around my kitchen table and among my Facebook friends. To my friends who grew up in the fifties and worked throughout the sixties, seventies, and eighties, reports of such abuse came as no surprise. The real surprise was that the women accusing such men felt empowered enough to speak publicly about it and to seek justice. We all had our stories to tell each other about the many shades of sexual harassment we endured. But when the measurement of whether these women were telling the truth became how long ago the abuse happened and why they hadn't reported it, I decided I had to get up from my kitchen table and away from Facebook and share my own ancient history.
---
Wildflowers
by Theresa Malphrus Welford
In the fall of 2017, I did something I never envisioned myself doing: I walked into a tattoo parlor. Sitting on a bench out front was Ross Craven, the owner of Ivory Tower Tattoo Studio, who sported ear gauges, a ZZ Topp/Duck Dynasty beard, and larger-than-life tattoos of Lucille Ball and Jed Clampett and other 1950s and1960s sitcom icons.
When I asked Ross about his tattoos, he said, "Oh, I'm full-body." Then, when I described my own plans, he said, "Yep, the backs of the legs are going to be painful, especially the ditches. The ditches always hurt."
The ditches.
I was on a quest to rebrand myself, and at that moment, it became clear that I'd be learning all kinds of things along the way.
---
Dinner Stories: Emergency Room
by W. Scott Olsen
Here is a truth that crosses every border. Dinner is a time for stories.
There is something magical about the meal. Or, to be more precise, there is something magical about the occasion. We don't often tell breakfast stories. We have to get going. The stories we tell over lunch are brief, summaries at best. But dinner stories can be long. They hold drama and nuance. They hold backstory and foreshadowing. They have an arc that reveals something deeper than just what happened.
Gather a group of friends at an evening table and we share stories that nourish the soul as well as the spleen.
---
More Recent Work: Like what you've been reading? All the fine essays published throughout the history of the magazine can be accessed via the contributors/archives page.
Want even more? Here are links to our two most recent issues:
A full-bodied, eclectic issue featuring twenty-five essays.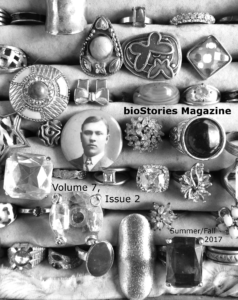 Eighteen essays from Volume 7, Issue 2.
Don't Forget to Check
out Our Anthologies
Encounters features fifteen eclectic essays originally appearing in bioStories magazine, all focused on some of those chance encounters that can transform our lives.
---
Issue Reviewed at NewPages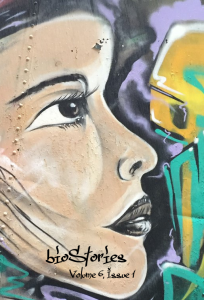 Appreciation goes out to Katy Haas at NewPages for taking time to review the Winter/Spring 2016 Issue.