W. Scott Olsen offers a "taste" of a new series he is developing where he has a chef prepare a meal meant to reflect the occupation of the person Olsen will interview while eating it. "On the menu" tonight: Dr. Warren Hintz.
Weekly Featured Essay
by W. Scott Olsen
Here is a truth that crosses every border. Dinner is a time for stories.
There is something magical about the meal. Or, to be more precise, there is something magical about the occasion. We don't often tell breakfast stories. We have to get going. The stories we tell over lunch are brief, summaries at best. But dinner stories can be long. They hold drama and nuance. They hold backstory and foreshadowing. They have an arc that reveals something deeper than just what happened.
Gather a group of friends at an evening table and we share stories that nourish the soul as well as the spleen.
---
MORE ESSAYS
Never Turn Away
by Christine Holmstrom
"Come here, Marilyn, let's look in this window." Wedged between an untrimmed bush and the home's front wall, I'd motioned to my friend, inviting her to join me. Pressing my face against the glass, I peered inside.
From what I'd read in the LA Herald Examiner a few days ago, a man had murdered his wife, then his four children as they slept, right here in our placid suburban enclave. Afterwards, he'd killed himself.
Drat. It was the kitchen.
"What's there?" Marilyn whispered, glancing backwards to see if any of the neighbors had noticed us.
"Just a messy table." It sat in the middle of the kitchen, a butter dish near the edge, the contents slumping onto scuffed wood, victim of the valley's summer heat.
No blood here.
---
Colonus
by John Donaghy
After Father died, Mother did not pine away; hers was not that kind of desolation. She lived for twenty-four more years. During that quarter century she elaborated a glittering vision of her marriage and fixed it in a set of canonical anecdotes which she told us over and over. We were to understand that she and Father enjoyed a passion that could only have developed long ago among people who were more vital and closer to the source of life than our own anemic generation with its provisional, little loves.
"In advanced old age when the multiplying frailties of nature send most people collapsing into themselves, Mother's vigor seemed divorced from her flesh. In her eighties and nineties she became tiny, bowed, seamed with wrinkles, dry as a cricket, but she stacked her own wood and pushed her own reel mower and took as many trips to the landfill as she could." We end this year with a feature essay by John Donaghy as he shares a complex, layered portrait of this force of nature that was his mother.
On her kitchen table she kept a pile of old letters in tattered and yellowing envelopes: they were all the letters she and my father had exchanged from their courtship onwards. "I don't know what to do with all these," she would always say, "I don't know who would be interested in them," and I always said, who knows why, "I'd love to take care of them for you." And she: "I don't know. There's awfully personal stuff in here. Some of these are the letters of a man who is totally gone on a woman. Maybe I'll have them cremated with me. And yet I hate to do that, someone might find them very interesting."
---
Dinner 1959
by Robert D. Kirvel
Dinner is at 6 p.m. sharp. That doesn't mean 6:05.
Having your dinner requires sitting at the big table in your designated chair. Otherwise no food until tomorrow morning. Period.
Table rules are few but firm. Eat your vegetables. Clean your plate.
Sit still until you are excused.
No one says anything when Mother cooks liver and onions for dinner. No one likes liver and onions, but Mother says a doctor tells in a magazine how liver and onions are good for you, so hush and eat what's on your plate.
---
Empty Windows
by Sara Birch
"You know, Short here saw angels in his window one night. They were floating around outside, lookin' in at him. He said they were beautiful."
My stepfather came closer. I shrank back and peered at the little man he'd brought into the house. They both smelled like liquor, old sweat, and something else. Something sinister.
---
Brush with Greatness
by J.D. Scrimgeour
At the end of summer in 1982, my family drove me from our home in New Milford, Connecticut, a town of 20,000 in the southern Berkshires and helped me unload my meager belongings—a few bags of clothes—in Carman Hall, the freshman dorm at Columbia University. While I had been to the city a few times, living in the frenzy of Manhattan was an adjustment. One time that first year my family joined me in the city to watch a basketball game, and when they returned to their car, they discovered that someone had broken into it. The thieves had stolen a couple ratty sleeping bags and a few of my siblings' high school textbooks. The following year, two students in Carman Hall found a rolled-up rug in a dumpster and carried it back to their room. When they unrolled it, they discovered a corpse inside, a man who had been shot twice.
Contracts
by J. Malcolm Garcia
Johnny wants to slam his burrito in my face. Wants to, will do—hard to read— but I'm leaning toward will do.
You took my job. Why don't you take my lunch, too? Johnny says.
He's drunk, voice slurring in an ocean of saliva, jaws loose on their hinges. I just wanted a quick lunch. This little burrito joint on the corner of Leavenworth and Ellis, its grimed windows steamed and marked with the finger drawings of the owner's small children, usually provides me a relaxed place to take a mid-day breather from work. Until Johnny showed up, I'd sat blissfully by myself.
---
Faded Memory
by Rosanne Trost
It was another bitterly cold, dreary January day. Unseasonably cold. No sun for days. My mind and spirit matched the weather. I was going through the motions as "they" say. Bogged down in grief—my husband had recently died—I was filled with fear about raising our daughters by myself.
A dry cleaner had opened near my home. Clutching a new customer coupon, I brought in a small stack of clothes. Standing at the counter, I glanced at the coupon again, and realized it was for men's' dress shirts. I wadded the coupon in my purse and forced myself not to cry. Men's shirts. Oh, how I wanted to have use of that coupon.
---
More Recent Work: Like what you've been reading? All the fine essays published throughout the history of the magazine can be accessed via the contributors/archives page.
Want even more? Here are links to our two most recent issues:
A full-bodied, eclectic issue featuring twenty-five essays.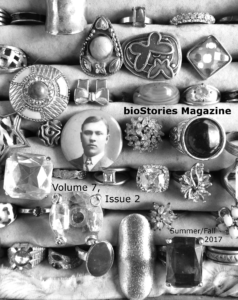 Eighteen essays from Volume 7, Issue 2.
Don't Forget to Check
out Our Anthologies
Encounters features fifteen eclectic essays originally appearing in bioStories magazine, all focused on some of those chance encounters that can transform our lives.
---
Issue Reviewed at NewPages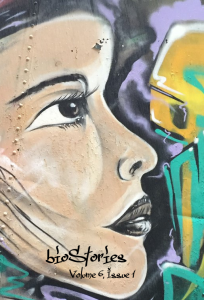 Appreciation goes out to Katy Haas at NewPages for taking time to review the Winter/Spring 2016 Issue.