Weekly Featured Essay
Bureaucracy can be a bitch. This week's essay by J. Malcolm Garcia has us thinking about Joseph Heller:
"Insanity is contagious."
― Joseph Heller, Catch 22
by J. Malcolm Garcia
Johnny wants to slam his burrito in my face. Wants to, will do—hard to read— but I'm leaning toward will do.
You took my job. Why don't you take my lunch, too? Johnny says.
He's drunk, voice slurring in an ocean of saliva, jaws loose on their hinges. I just wanted a quick lunch. This little burrito joint on the corner of Leavenworth and Ellis, its grimed windows steamed and marked with the finger drawings of the owner's small children, usually provides me a relaxed place to take a mid-day breather from work. Until Johnny showed up, I'd sat blissfully by myself.
---
MORE ESSAYS
Faded Memory
by Rosanne Trost
It was another bitterly cold, dreary January day. Unseasonably cold. No sun for days. My mind and spirit matched the weather. I was going through the motions as "they" say. Bogged down in grief—my husband had recently died—I was filled with fear about raising our daughters by myself.
A dry cleaner had opened near my home. Clutching a new customer coupon, I brought in a small stack of clothes. Standing at the counter, I glanced at the coupon again, and realized it was for men's' dress shirts. I wadded the coupon in my purse and forced myself not to cry. Men's shirts. Oh, how I wanted to have use of that coupon.
---
Mixed Emotion Family
by Susan Bernstein
"My mama is mean," Ruth used to say. I couldn't see this myself. Miss Cora, as Ruth insisted her mother liked to be called, seemed a benign old woman to me. She had traveled to suburban New York from Georgia by bus to spend six weeks of the summer with her daughter. Miss Cora hardly spoke to me. I might say, "Good morning," and she'd wince a smile or murmur some slight recognition. I found her puzzling, but since she was Ruth's mother, I accepted her presence without asking questions.
When I was an infant my parents hired Ruth to cook and clean and to care for my brother and me. She remained in this job for over forty years until each of my parents died in the same house where Ruth had dusted, swept, and managed the kitchen work. She witnessed everything, from first days of school to arguments and holiday celebrations. She not only washed the dirty laundry, she saw and heard it. But while she knew everything about us, it seemed, what did we know of her family and her life beyond our house?
---
The Drive
by Peyton Vance
"Now, you just have to be easy with it." I say. Eli looks at the buttons and levers.
"OK."
"What are you forgetting?" I ask.
"Oh." There's a click and he disengages the emergency brake. "Reverse?" He asks.
"Yes."
"Okay … reverse." He lets the ER drag out this mouth. "The 'D'?" he asks.
"What? Oh, yeah, put it in drive."
It takes him seven seconds to pull back the lever. He's timid. He thinks that if he presses or pulls the wrong thing the car will explode. Part of me doesn't blame him. My friend's brother slammed into a car so hard his body was scrambled like eggs. It took six months for him to learn to walk again. Eli pulls forward.
"Where do I go?" he asks.
"Where do you want to go?"
---
Tangled
by Flo Gelo
Nella, my forty-eight-year-old mother, sits at the edge of the bed. Her legs hang over the side, her feet cool as she likes them. The white, shiny, threadbare bed sheet, aged from hundreds of hot-water washes in steam boilers, lays tangled across her lap. Her dry callused feet reveal the circular indentation on the right side of her heel. I want to lift her, embrace her tightly and carry her from this bed to another time, before.
---
Sugar Run Wild
by Dennis "Suge" Thompson
Red lies in bed at Israel Hospice. On Christmas Eve morning, he talks in semi-conscious lucidity about Keats and Emerson, Man-O-War and Secretariat, his speech affected by the intravenous pain medications. A self-educated person and my friend for twenty-five years, Red is the best horse handicapper I've met and will likely ever meet, which is one of the reasons I love him. A polymath, he could pick a horse by its gait, its speed breaks, and its shift in class, all the while making some obscure reference to Leda and the Swan by Yeats.
Red and I met at Fairgrounds Park in New Orleans. I was an unemployed letter carrier and a novice handicapper. He was a hot walker for the biggest trainer at the thoroughbred meet that spring in '89. On that day I'd paced the paddock, trying to figure the form and get a clue as to which horse would make me money. Living on a broke man's budget, I knew I had to lay off most races and could only play the ones that would produce a payoff. I watched a large red-haired man lead the nine horse during the post parade, giving the jockey a one-leg lift into the irons before coming out onto the apron to watch the race at the fence.
---
Senior-Citizen Discount
by Patrick Dobson
Lucy liked bad music, had a dog everyone but she could smell, and owned her own fixer-upper in an up-and-coming neighborhood south of the University of Missouri-Kansas City campus. Narcissism and/or alcoholism marked former husbands with whom she had bad marriages and no children. She'd had three different last names other than her maiden name.
Lucy had a penchant for celebrity and had spent much of her youth as a rock-n-roll band groupie. She stayed more than one night in jail for various petty crimes, not the least of which was a disturbing-the-peace charge where she'd thrown a shot glass through the street window of The Gate, a third-rate tavern in Northeast Kansas City that convicts and steelworkers from the nearby mill frequented.
By the time I met Lucy, she'd tended bar and cocktail-waitressed at numerous lounges of low repute all around Kansas City. But she'd gone on a self-improvement binge and put herself through nursing school. Along with nursing at a large hospital, she worked a succession of bar jobs, each better than the last. She'd climbed up out of smoky no-name taverns to the rooftop of the Ritz and was making $400 a night serving drinks to out-of-town corporate executives and wealthy adulterers hiding in the dark corners of the bar—after her shifts at the hospital. Her fellow employees at the hotel and the hospital admired her strong will and devil-may-care attitude work and life.
---
Good Work
by Kirk Boys
The room is sharp with mildew, tomato sauce, melted cheese, days-old urine, and sweat. It is an all too human smell, not disguised by deodorant spray or scented soap, but one of grit with hard notes of melancholy. My wife and I have arrived here after years of conversation about doing good works. Here where our talking about wanting to do something good for someone else finally takes form.
The "here" is a church hall filled with people most of us only glimpse in the shadows of an alley, huddled under a blue tarp in a makeshift campsite, or sitting under a freeway bridge. Here at St. James Community Hall, well over a hundred homeless people stare at us. They are like ghosts, sitting on folding chairs that line the walls, their looks of distress or anger or resignation haunts me. They are intimidating. They dare us not to feel something. We have only walked through the front door, yet we are stopped, held hostage by those eyes. I do my best to disappear. The door we have entered is dwarfed by St. James' twin spires, which reach up into a cold, endless, gray Seattle sky. The bells within those spires peal across a city whose soul is being put to the test by a fast-growing homeless population. The city appears both disgusted and seemingly helpless to deal with the problem. More and more people show up on the city's streets and there is no escaping their impact.
---
---
More Recent Work: Like what you've been reading? All the fine essays published throughout the history of the magazine can be accessed via the contributors/archives page.
Want even more? Here are links to our two most recent issues:
A full-bodied, eclectic issue featuring twenty-five essays.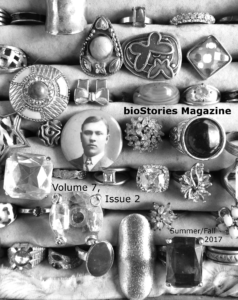 Eighteen essays from Volume 7, Issue 2.
Don't Forget to Check
out Our Anthologies
Encounters features fifteen eclectic essays originally appearing in bioStories magazine, all focused on some of those chance encounters that can transform our lives.
---
Issue Reviewed at NewPages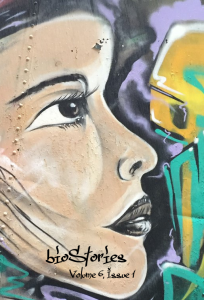 Appreciation goes out to Katy Haas at NewPages for taking time to review the Winter/Spring 2016 Issue.