Recently Featured:
Seetha Anagol "Hide! You're a Woman", Sonia Arora "Anodyne", Richard Ault "Living in the Nut House", Rick Bailey "Birds and Beatles", Terry Richard Bazes "Valediction", Atticus Benight "Furry Felonies" Gabriella Brand "Wild Cherry Tree", John Chavers "Chairs at Rest" (photography), Martha Clarkson "Recycling Wasn't Always Fashionable", Skye Davis "Walk Like a Bear", Eugene Durante "Midnight Stops", Michael Englehard "So Long, Promised Land", Brent Fisk "The Conflagration", Louis Gallo "Stacey", Sharon Frame Gay "For Ben on a Sunny Day", Ricardo José González-Rothi "Papi and Me", Darryl Graff "Tough Guy", James Hanna "Deceptive", Ryan Harper "Masters of Universes", Barb Howard "In the Matter of My Law Degree", Leonard Kogan "Farcical Faces" (artwork), Richard LeBlond "From Snitch to Scab", Miriam Mandel Levi "The Witch", Anya Liftig "Irretrievable Breakdown", Marjorie Maddox Taking Refuge, John McCaffrey "Step Over", Sophia McGovern "Mizungo", Sheila Moeschen "Lighthouse", Siri Liv Myhrom "Vanishing", Toti O'Brien "Lost & Found", Joanne Passet "The Quilter", Adrienne Pine "Consecrated by Use", Rebecca Potter "The Places They Could Go", John Repp "TV Dads", Sarah Russell "A Death in the Family", Amy Kathleen Ryan "Vanished", Jan Zlotnik Schmidt "I Met My Mother's Body at Loehmann's", Terril L. Shorb "Hand Me Down Kid", Shira Sebban "Fanning the Flames", Tessa Torgeson "Reverse Bartending and Wilted Wings", Maria Trombetta "This is a Dickie Lee Song", Robert (Bob) Michael Turano "Douglas" (artwork), Gabby Vachon "This House Burns Blue", Clinton Van Inman "Boy with Dog" (artwork), Joy Weitzel "Taylor's Drain".
Past Issues:

Winter/Spring 2016: Volume 6, Issue 1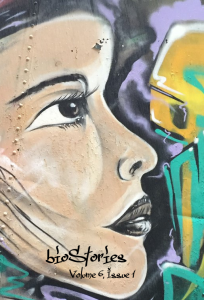 Bari Benjamin, Jean Berrett, Susan Bonetto, Jason Bruner, Dawn Corrigan, Annie Dawid, Jenn Gilgan, Gillian Haines, Alice Lowe, Sheila Luna, Desiree Magney, Susan Moldaw, Joseph O'Day, Paul Perilli, Jeanne Powell, Julie Whitlow.
Summer/Fall 2015: Volume 5, Issue 2
Sharon Frame Gay, Perry Glasser, John Guzlowski, Caroline Horwitz, Rick Kempa, Susan E. Lindsey, Annalise Mabe, Mara A. Cohen Marks, Robert Maynor, Ed McCourt, Joesph O'Day, Mary Pfeiffer, Emily Rich, Jean Ryan, Vic Sizemore, Claude Clayton Smith, Emily Story (artwork), Linda Tharp, Peter Wadsworth, Harry Wilson (cover).
W
inter/Spring 2015: Volume 5, Issue 1
Kirk Boys, Michael K. Brantley, Sharon Frame Gay, Lou Gallo, Frederick Keogh, Susan Lago, Susan E. Lindsey, Anna Mantzaris, Carol D. Marsh, Toni Martin, John Messick, Paul Pekin, Lisa Richter, Tammy Ruggles (cover), Jean Ryan, J.D. Scrimgeour, Amanda Forbes Silva, Cathy Warner, Daniel W. Weinrich.
Summer/Fall 2014: Volume 4, Issue 2
Martin Achatz, Macia Butler, Donald Dewey, Victoria Fann, Jakob Guanzon, Barbara Harroun, Ruth M. Hunt, Shayla Love, Jonathan Mack, Marlene Olin, Paul Pekin, Paul Perilli, Marsha Roberts, Hazel Smith, Jay Solomon, Paige Towers, Renee Tursi.
Winter/Spring 2014: Volume 4, Issue 1
Susan Bonetto, Nancy Caronia, Ute Carson, Eleanor Fitzsimons, Julie Goodale, KJ Hannah Greenberg, Sue Hardy-Dawson, C.B. Heinemann, Mary Kudenov, Cathy Mauk, Liz Olds, Jean Ryan, Katharine Valentino, Jono Walker.
Summer/Fall 2013: Volume 3, Issue 2
Rick Bailey, Richar Ballon, Ryan Bradley, Kevin Bray, Kristi DiLallo, Mike Ekunno, Debra Fox, Lori Lamothe, Lisa Lebduska, Tom Darin Liskey, Natasha Lvovich, Jesse Milner, Kat Mueller, Russell Reece, Lisa Romeo, Anthony Santulli, Rob Stanley, Bill Vernon, Shirley Russak Wachtel, Jono Walker, Melissa Wiley.
Winter/Spring 2013: Volume 3, Issue 1
Cathleen Calbert, Carla Charleston, Chelsey Clammer, Rachel Dovey, Lou Gallo, Adrienne Lindholm, John Palen, Dreama Pritt, Heather Rick, Garrett Rowlan, Kellie L. Thurman, Eric Torgesen, Jean Venable, Elizabeth Stainton Walker.
Charles Bergman, Donald Dewey, Tammy Dietz, Jessika Feather, Jane Hertenstein, Amy Herting, Christina Holzhauser, Vanessa Jo King, Rebecca Marks, Jenean McBrearty, Sheila Morris, Samina Najmi, LeeAnn Oliver, Todd Outcalt, Kathleen Patton, Dorthy M. Place, Kristi Sandy, Barbara Strauss, Clementine Till, Kristin Troyer, Michelle Valois, Janna Vought, Jono Walker, Linda C. Wisniewski.
Loukia Borrell, Peter Derk, Murray Edwards, Merlin Flower (cover), Wilmer Frey, Nancy Graham, KJ Hannah Greenberg, Kimberly Hamilton, Aimee Henkel, Jona Jacobson, Ruth Lehrer, Sheila Morris, Cherri Randall, Cathy Roy, Claude Clayton Smith, Julie Whitlow.
Mothers and Other Creatures Clinton Van Inman (cover–"Elba in Black" oil).
Encounters Jen Leichliter (cover–"Still Life" acrylic).