'Tis but thy name that is my enemy;
Thou art thyself, though not a Montague.
What's Montague? It is nor hand, nor foot,
Nor arm, nor face, nor any other part
Belonging to a man. O, be some other name!
What's in a name? That which we call a rose
By any other name would smell as sweet; 
                             --from "Romeo and Juliet" William Shakespeare
This week, Ann S. Epstein explores the complicated nature of names and their meanings.
Weekly Featured Essay
by Ann S. Epstein
I lost my name. Perhaps the name was never mine to begin with. In which case, will I ever own one? Or, if the name was once in my possession, can I get it back?
People on intimate terms with their names stir envy in me. When I hear mine, no inner voice says "Me". The roots of this dissociation sprout in a family soil that teems with multiple, secret, and lost names. Such history is common among immigrants who changed their names to assimilate. For me, not being my name also stems from my family's particular pathology.
---
MORE ESSAYS
Why We Didn't Tell
by Barbara Desman
When women began speaking out about sexual abuse by powerful men, particularly with the high-profile allegations against men like Bret Kavanaugh, Larry Nassar, and Harvey Weinstein, it led to many a discussion around my kitchen table and among my Facebook friends. To my friends who grew up in the fifties and worked throughout the sixties, seventies, and eighties, reports of such abuse came as no surprise. The real surprise was that the women accusing such men felt empowered enough to speak publicly about it and to seek justice. We all had our stories to tell each other about the many shades of sexual harassment we endured. But when the measurement of whether these women were telling the truth became how long ago the abuse happened and why they hadn't reported it, I decided I had to get up from my kitchen table and away from Facebook and share my own ancient history.
---
Wildflowers
by Theresa Malphrus Welford
In the fall of 2017, I did something I never envisioned myself doing: I walked into a tattoo parlor. Sitting on a bench out front was Ross Craven, the owner of Ivory Tower Tattoo Studio, who sported ear gauges, a ZZ Topp/Duck Dynasty beard, and larger-than-life tattoos of Lucille Ball and Jed Clampett and other 1950s and1960s sitcom icons.
When I asked Ross about his tattoos, he said, "Oh, I'm full-body." Then, when I described my own plans, he said, "Yep, the backs of the legs are going to be painful, especially the ditches. The ditches always hurt."
The ditches.
I was on a quest to rebrand myself, and at that moment, it became clear that I'd be learning all kinds of things along the way.
---
Dinner Stories: Emergency Room
by W. Scott Olsen
Here is a truth that crosses every border. Dinner is a time for stories.
There is something magical about the meal. Or, to be more precise, there is something magical about the occasion. We don't often tell breakfast stories. We have to get going. The stories we tell over lunch are brief, summaries at best. But dinner stories can be long. They hold drama and nuance. They hold backstory and foreshadowing. They have an arc that reveals something deeper than just what happened.
Gather a group of friends at an evening table and we share stories that nourish the soul as well as the spleen.
---
Never Turn Away
by Christine Holmstrom
"Come here, Marilyn, let's look in this window." Wedged between an untrimmed bush and the home's front wall, I'd motioned to my friend, inviting her to join me. Pressing my face against the glass, I peered inside.
From what I'd read in the LA Herald Examiner a few days ago, a man had murdered his wife, then his four children as they slept, right here in our placid suburban enclave. Afterwards, he'd killed himself.
Drat. It was the kitchen.
"What's there?" Marilyn whispered, glancing backwards to see if any of the neighbors had noticed us.
"Just a messy table." It sat in the middle of the kitchen, a butter dish near the edge, the contents slumping onto scuffed wood, victim of the valley's summer heat.
No blood here.
---
Colonus
by John Donaghy
After Father died, Mother did not pine away; hers was not that kind of desolation. She lived for twenty-four more years. During that quarter century she elaborated a glittering vision of her marriage and fixed it in a set of canonical anecdotes which she told us over and over. We were to understand that she and Father enjoyed a passion that could only have developed long ago among people who were more vital and closer to the source of life than our own anemic generation with its provisional, little loves.
"In advanced old age when the multiplying frailties of nature send most people collapsing into themselves, Mother's vigor seemed divorced from her flesh. In her eighties and nineties she became tiny, bowed, seamed with wrinkles, dry as a cricket, but she stacked her own wood and pushed her own reel mower and took as many trips to the landfill as she could." We end this year with a feature essay by John Donaghy as he shares a complex, layered portrait of this force of nature that was his mother.
On her kitchen table she kept a pile of old letters in tattered and yellowing envelopes: they were all the letters she and my father had exchanged from their courtship onwards. "I don't know what to do with all these," she would always say, "I don't know who would be interested in them," and I always said, who knows why, "I'd love to take care of them for you." And she: "I don't know. There's awfully personal stuff in here. Some of these are the letters of a man who is totally gone on a woman. Maybe I'll have them cremated with me. And yet I hate to do that, someone might find them very interesting."
---
Dinner 1959
by Robert D. Kirvel
Dinner is at 6 p.m. sharp. That doesn't mean 6:05.
Having your dinner requires sitting at the big table in your designated chair. Otherwise no food until tomorrow morning. Period.
Table rules are few but firm. Eat your vegetables. Clean your plate.
Sit still until you are excused.
No one says anything when Mother cooks liver and onions for dinner. No one likes liver and onions, but Mother says a doctor tells in a magazine how liver and onions are good for you, so hush and eat what's on your plate.
---
Empty Windows
by Sara Birch
"You know, Short here saw angels in his window one night. They were floating around outside, lookin' in at him. He said they were beautiful."
My stepfather came closer. I shrank back and peered at the little man he'd brought into the house. They both smelled like liquor, old sweat, and something else. Something sinister.
---
More Recent Work: Like what you've been reading? All the fine essays published throughout the history of the magazine can be accessed via the contributors/archives page.
Want even more? Here are links to our two most recent issues:
A full-bodied, eclectic issue featuring twenty-five essays.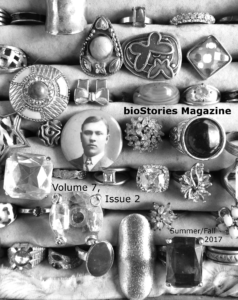 Eighteen essays from Volume 7, Issue 2.
Don't Forget to Check
out Our Anthologies
Encounters features fifteen eclectic essays originally appearing in bioStories magazine, all focused on some of those chance encounters that can transform our lives.
---
Issue Reviewed at NewPages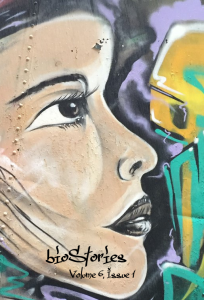 Appreciation goes out to Katy Haas at NewPages for taking time to review the Winter/Spring 2016 Issue.