Weekly Featured Essay
As we enter the new year, a story of committing to a needed but difficult change.
by Jill Dalton
I had promised myself I'd never do extra work again. Unfortunately, my unemployment claim is running out, and I have no new job prospects on the horizon. So when extra casting calls—"Hi, Jill, we'd love to book you on the movie Trainwreck, written by and starring Amy Schumer. You'll be a lady who lunches"—chirps the woman on the phone. I'm left confronting my promises. Tying to entice me, the woman from casting continues, "You'll have two very long days (meaning I'll make money) at the Plaza Hotel (meaning I'll be inside)." Against my better judgment, like a battered wife returning to her abusive husband, I blurt out, "Yes. I'm available."
Only two days; how bad can it be?
---
MORE ESSAYS
Snip
by Gabriella Brand
I cut them off with a pair of nail scissors. It was not easy work. First the left. Then the right. And I placed them carefully in a shoebox lined with shiny silver paper from Baraccini Chocolates. I thought the two braids looked almost edible. They were the color of licorice, glossy and smooth, each about ten inches long.
All year my teacher, Mr. Anders, had been tugging on the neatly plaited braids, which dangled below my shoulders. He was always telling me that he wanted one. "For my collection," he'd say.
---
Blues
By Sydney Lea —May, 2020
Another unarmed black man has been gunned down by police. Great cities erupt, but the thin blue line—what else?—is established to contain that predictable response.
Meanwhile, as daylight dies here in Vermont, I catnap on my couch, remote from mayhem and fury, retired, well-heeled, ashamed of my own comfort.
---
For the Land of the Free
By Christine Kiefer
I am wrapped up in a map of the United States of America.
I have an artsy map of the country hanging above my bed. I look at it when I lay on the bed backwards to pet my cats. When I drift off to sleep, I see myself, smack dab in the middle of the U.S. of A.
Missouri is tricky. We touch six other states. Just a slight brushing against Tennessee and Oklahoma, in addition to the obvious ones. Of course, I am aware that many people in The United States of America can't find Missouri on a map at all. I have no hard feelings about this. I know its body, its jagged lines, its little "bootheel" at the southeast corner, how one could travel along Route 66 and find kitschy historical landmarks, like "Gary's Gay Parita," where the "gay" is actually a woman's name, not a queer person like me.
---
The Loom
By Alicia Robinson Geilen
For the last twenty-five years, I have carted around the pieces of a barn loom that has been in my family for at least six generations. And until recently, the idea of putting it back together again had begun to seem like a pipe dream. The story of how a 100 plus year-old loom got from a chicken house in Oklahoma to a basement in New Hampshire, with the help of a stranger from Connecticut, is one of true serendipity.
The loom, when set up, is a five-foot cube of thirty or so hand-hewn oak timbers. God only knows what it weighs. My Grandaddy was taught to weave on it by his grandmother, who was born in 1863. Sadly, nothing woven by his mother or grandmother survives. But each of his eight grandchildren received a small piece that he wove out of dime-store-quality string and yarn. Next, he wove a small piece for each of the eleven greatgrandchildren who had been born by that time. Eventually he had to stop weaving as his health declined, and the loom sat abandoned in the old chicken house at the back of the garden, which he had used as his workspace. Then in the late 1990s, my grandparents were moved into a nursing home, and the contents of their house divided among family. No one wanted the old loom. It was slated to be thrown out, so I offered to take it. Problem solved! Except that it was in Tulsa, and I lived in Massachusetts.
---
Try Harder
by Julie Wittes Schlack
"Which dish towel do you use for dishes?" my mother-in-law Roz asked while helping to clean up after dinner at our house one night. This was in the early days of my marriage, when her ways were still new to me.
In the span of a microsecond I wondered: How many dish towels do I have? How many dish towels should I have? What else would I use a dish towel for besides dishes?
"Oh, any one will do," I answered genially, magnanimously, cluelessly.
"Really," she said, almost trembling with the effort it took to contain her judgment. "I know I'm always grabbing a towel to clean up a spill on the counter—you know, if I overfill the coffee cup or I get a little dirty water run-off from the dish rack or …" (chuckling) "… I remember one time I was spraying the cast iron skillet—this was before the days of Teflon—I was spraying the skillet—this was my mother's old frying pan that she probably got from her mother, that's how old it was—I was spraying the skillet with Pam—the butter-flavored Pam—I don't like the olive oil flavor; I find it too heavy somehow …"
---
Pauline
by Inez Hollander
He attaches herself to his body as a tick does to a cow.
~ Henry Miller, Moloch (1992)
I had passed out on the bed, but the penetrating smell of alcohol, uterine blood and sweat of contractions made me come to. I remembered instantly.
---
Our Second Outbreak
by Patti Niemi
Opera plots don't bother with reality. In Wagner's The Ring, a brother and sister make out and have a baby together. So it's a plot twist worthy of opera that Covid-19 is San Francisco Opera's second experience with contagion. Twenty-seven years earlier, we dealt with a different epidemic.

That one began with an itch.

It was November, the busiest part of our season. The orchestra was stuffed into the pit for rehearsals by day and performances at night. Sweat was destroying the armpits of tailcoats; spit was raining down from the singers above us. We were asking to spread germs.
---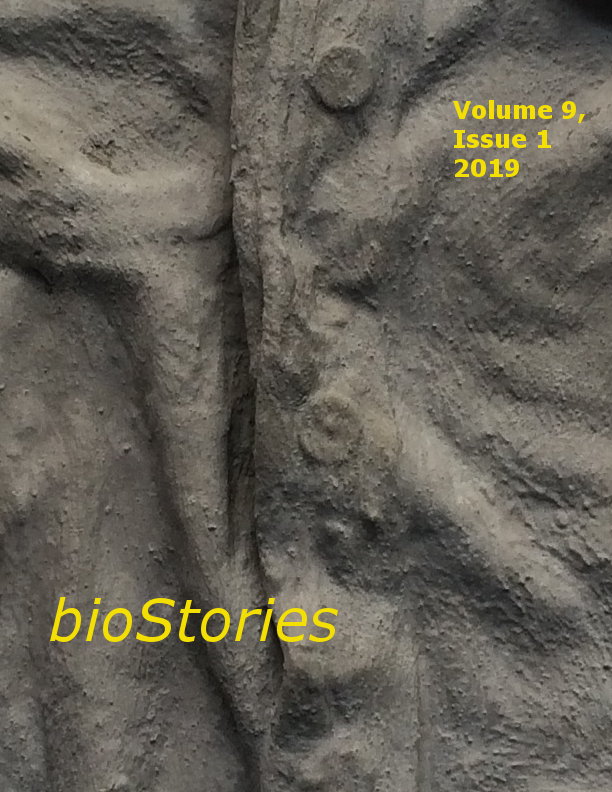 Want even more? Here are links to our two most recent issues:
Work from twenty-two fine writers. You will be transported into war zones, alongside horse tracks, within homeless shelters and food kitchens, laundromats and trailer parks. These true stories will inspire, enrage, provide hope, and change your perspective.
---
A full-bodied, eclectic issue featuring twenty-five essays.
---
Don't Forget to Check
out Our Anthologies
Encounters features fifteen eclectic essays originally appearing in bioStories magazine, all focused on some of those chance encounters that can transform our lives.
---