Weekly Featured Essay
After spending much of her life trying to measure up to her mother-in-law's rigid standards, Julie Wittes Schlack longs for a return to the exasperating early years trying to please Roz.
by Julie Wittes Schlack
"Which dish towel do you use for dishes?" my mother-in-law Roz asked while helping to clean up after dinner at our house one night. This was in the early days of my marriage, when her ways were still new to me.
In the span of a microsecond I wondered: How many dish towels do I have? How many dish towels should I have? What else would I use a dish towel for besides dishes?
"Oh, any one will do," I answered genially, magnanimously, cluelessly.
"Really," she said, almost trembling with the effort it took to contain her judgment. "I know I'm always grabbing a towel to clean up a spill on the counter—you know, if I overfill the coffee cup or I get a little dirty water run-off from the dish rack or …" (chuckling) "… I remember one time I was spraying the cast iron skillet—this was before the days of Teflon—I was spraying the skillet—this was my mother's old frying pan that she probably got from her mother, that's how old it was—I was spraying the skillet with Pam—the butter-flavored Pam—I don't like the olive oil flavor; I find it too heavy somehow …"
---
MORE ESSAYS
Pauline
by Inez Hollander
He attaches herself to his body as a tick does to a cow.
~ Henry Miller, Moloch (1992)
I had passed out on the bed, but the penetrating smell of alcohol, uterine blood and sweat of contractions made me come to. I remembered instantly.
---
Our Second Outbreak
by Patti Niemi
Opera plots don't bother with reality. In Wagner's The Ring, a brother and sister make out and have a baby together. So it's a plot twist worthy of opera that Covid-19 is San Francisco Opera's second experience with contagion. Twenty-seven years earlier, we dealt with a different epidemic.

That one began with an itch.

It was November, the busiest part of our season. The orchestra was stuffed into the pit for rehearsals by day and performances at night. Sweat was destroying the armpits of tailcoats; spit was raining down from the singers above us. We were asking to spread germs.
---
Piano
by Lori Lindstrom
I was nine, sprawled on my bed writing in my five-year diary when I heard the first five notes (alternating E and D-sharp) of "Fur Elise" by Beethoven. Oh good, Cindi's playing again. I opened my bedroom door to allow her music to enter, awestruck at the sound of her fingers flying across the keyboard, never missing a note, never missing a beat.
Lord, can she play. She even plays better than dad.
Cindi played the classics—Bach, Mozart, Tchaikovsky. But her favorite piano book—a red cover with a boy and a girl dancing on the fire escape stairwell—was music from West Side Story, a modern-day remake of Romeo and Juliet starring Natalie Wood and Richard Beymer. If she wasn't playing show tunes from West Side Story, she was listening to the film soundtrack, flitting around the living room singing, "I feel pretty, oh so pretty/I feel pretty, and witty and bright."
---
Wisdom from the Alligator Purse
by Emma Berndt
Once upon a time I sat in a miniature chair in a parent-tot class and became smitten with 'the lady with the alligator purse.' Remember her from the playground rhyme "Ms. Lucy had a baby" that children sing while playing hand clapping games? If not then here's a refresher. A baby by the name of Tiny Tim drinks all the bathwater and then tries to swallow the tub itself. Understandably he doesn't feel so great afterward. Ms. Lucy calls the doctor, who calls the nurse, who calls the lady with the alligator purse. The doctor looks at Tiny Tim and declares he's sick with measles and the nurse says it's the mumps. But, in the version read at parent-tot that day, the lady with the alligator purse declares the doctor's and nurse's assessment of the situation nonsense. She says there is nothing wrong with Tiny Tim and then she orders pizza for everyone. That's the end. And, listening to the story that day I was struck with the feeling that I'd spent time as a mom to first one and then two small children desperately needing more of her wisdom. Could I get her number?
After my second son was born, I left the workforce with no immediate plans to return. At the time, I had trained myself over nearly two decades of climbing the ranks in the working world to spend a large portion of my day in a state that I now refer to in my head as "robot." In "robot" mode, every email that popped into my inbox would cause my heart rate to speed up and a small surge of adrenaline to course through my body. I prided myself on how quickly I could dispatch various tasks and the sheer volume of work I could process. I wanted to excel in my job, and like many people I know, a lot of my very identity was wrapped up in my work.
---
Carrying Sam
by Karen Foster
My father and I have a schedule: I pour the cereal into each child's bowl, and he adds the strawberries, defrosted from the night before. I put clothes in the washer, and he moves them to the dryer, initiating a truce between us. If he bathes the kids, I dry them and put them in pajamas. He hands me the baton as he leaves for work, and I run my leg of the course until I go to school or work and then give it back to him.
Everyone in town knows the shocking story of how our mother abandoned us, her flight from our lives bringing an end to a kind of chaos she seemed to cherish and initiating the schedule by which my father and I managed our own negotiations. The day of her departure was the happiest of my life. I was sixteen and she had been keeping me home from school since I was six.
"I just can't get her to go to school," Mummy tells my third-grade teacher. No one would believe me if I said she keeps me at home, that she gives me her pills, that she lies.
---
Leaving Mum Behind ~ 1967 – 1968
by Deborah Burghardt
Dad, self-appointed ambulance driver, strangled the steering wheel with white-knuckled hands. His jaw clenched, he looked as frantic as I felt. Mum lay comatose on the pillow-laden back seat. My sister, Merri, and I squeezed in the front. We had rushed off from my paternal grandparents' home in Massachusetts to get to a hospital in Pennsylvania—our second twelve-hour road trip in a matter of days.
"Check on your mother," Dad said in a voice, shaky, like her last steps.
My stomach twisted. Mum's face had paled to the white of crushed shells. I touched her still warm forehead. Her breathing labored with almost imperceptible inhales. Her exhales—specks of air released sporadically like in childhood Hold-Your-Breath contests.
"How's she doing?" Dad said, sweat trickling down his temples.
I pressed a cup to Mum's lips, only to watch the water dribble down her chin. "She swallowed a little." I lied. "I'm taking care of her. Don't worry." Why upset him with the truth? We had no choice but to keep driving and keep hoping—hoping Dr. McKelvey could undo what Dad had done.
---
The Reporter and the Reporter's Mother
by J. Malcolm Garcia
The reporter sat in the living room and waited for the coroner to arrive and pick up his mother's body. A hospice nurse had checked her blood pressure and listened to her heart just forty-eight hours earlier and had told him she was fine. One-twenty over eighty, the nurse had said. She then asked his mother if she knew the day's date. His mother stared across the room at the pink clay tiles of the patio, upended by burrowing chipmunks and now barely discernible in the overcast evening, and the look on her face reminded the reporter of a moment in sixth grade when he had not done his math homework and his teacher, Miss Fowler, asked him questions he could not answer and gave him an F. After a long silence, his mother replied, February 19, 1917, her birthday. I'm ninety-eight, old, old, old, she said. No, the nurse replied, it's November 24, 2015. The reporter's mother said nothing. Do you know where you are? The street you live on? Home, his mother answered, I'm home, her voice flat and distant, a fearful look in her eyes as if she knew this, too, was incorrect.
This morning, just two days after the nurse's visit, the reporter's mother had felt nauseated and a home healthcare assistant, Cathy, helped her into a wheelchair and took her to the bathroom. Once there, she said she'd like to lie down and Cathy helped her to her room. She got into bed and fell instantly to sleep. Her breathing became labored and Cathy called the reporter, who had been reading in another room. He hurried in and Cathy suggested he call the nurse and when he got off the phone he saw his mother had stopped breathing. He swallowed and the noise in his throat sounded very loud and he just stared at her and called her name three times and Cathy started crying. When the nurse arrived, the reporter told her his mother was gone and she followed him to the bedroom with its flowered wallpaper and faded photographs of New York and Puerto Rico and pressed a stethoscope against her chest. Tree branches clattered against a window by a rocking chair. She's gone, the nurse said as if the reporter had not told her.
---
Like what you've been reading? All the fine essays published throughout the history of the magazine can be accessed via the contributors/archives page.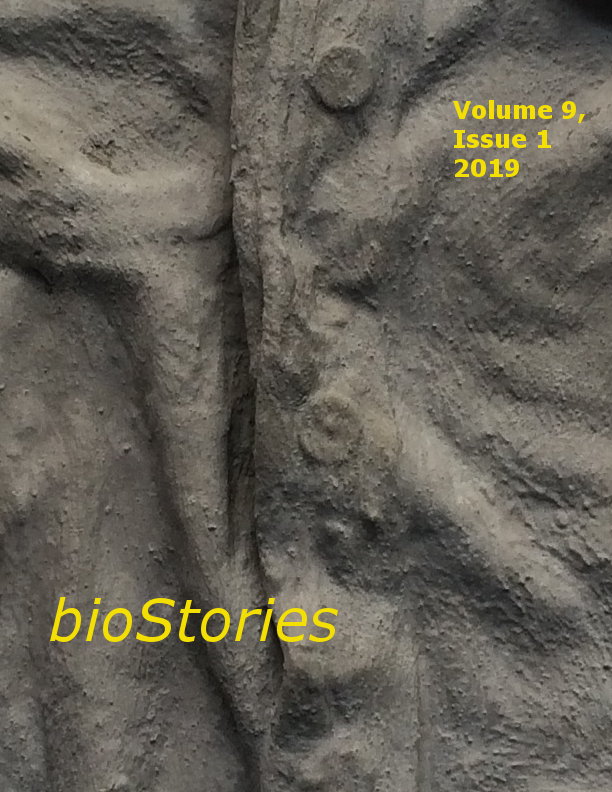 Want even more? Here are links to our two most recent issues:
Work from twenty-two fine writers. You will be transported into war zones, alongside horse tracks, within homeless shelters and food kitchens, laundromats and trailer parks. These true stories will inspire, enrage, provide hope, and change your perspective.
---
A full-bodied, eclectic issue featuring twenty-five essays.
---
Don't Forget to Check
out Our Anthologies
Encounters features fifteen eclectic essays originally appearing in bioStories magazine, all focused on some of those chance encounters that can transform our lives.
---